"STAMP LOVER" Celebrates 100 years of enthusiasm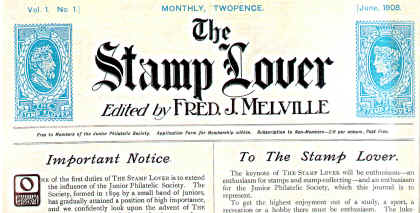 "The keynote of the STAMP LOVER will be enthusiasm" wrote Fred Melville founder of the Junior Philatelic Society in the very first edition of the journal in June 1908. A century later, the Junior's successor, the National Philatelic Society, celebrates the centenary of the Stamp Lover with a bumper edition.
The special 100-page issue features a re-design, with full colour illustrations and articles which reflect the diversity of philatelic interests and which also review the development of philately during the past century.
The issue is prefaced with an extract from the very first issue, including the editorial where Fred Melville expresses his views about enthusiasm for stamps, stamp collecting and the Junior Philatelic Society. That enthusiasm has been reflected ever since in the pages of subsequent issues of the Stamp Lover.
Articles by expert contributors not only mark the Centenary but also inform and educate on philatelic issues today. As will be seen below, subjects include research, social philately, aerophilately, Machins, thematics, postal stationery and computers in philately. There is also a look back to 1908 and the issues current then, as well as a philatelic history of the 1908 Franco-British Exhibition.

Click here For full details of the contents of this special issue.
Accordingly, the British Philatelic Trust, has provided financial support for which we are grateful, to enable local philatelic societies in the UK to receive copies. This will allow their members to benefit from the research provided by our contributors.
Copies of the Centenary issue may also be obtained from the Hon Secretary at National PS, 10 Gilpin Green, Harpenden AL5 5NR, for £4 each - UK only) including postage. Cheques should be payable to National Philatelic Society.